Quick Search and Submission Look-Up
Posted on June 7, 2018
Quick Search & Submission Look-Up Process:
1. Log-in to the Aspera Website – https://pi.asperains.com
2. You will see two new sections to the left of the screen labeled "Search Filter" and Quick Search: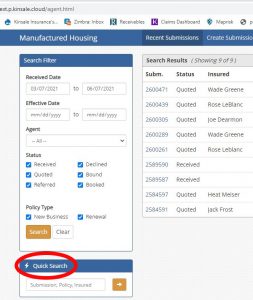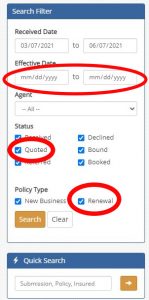 3. The Quick Search function is best used to look up a specific submission number, policy number, or insured. Simply enter the appropriate information in the box and click the arrow button next to the box to display the results.
The system will display all search results in the area labeled "Search Results" to the right.
Be aware of vague search words – if you enter "Smith" you may receive a high number of submissions in the Search Results. Be as specific as you can or use their unique policy number.
4. The Search Filter section can be used to pull lists of quoted renewals or new submissions that have yet to be bound.
To see all renewals quoted with an effective date in a certain month:
Enter an effective date range from the first day of the month to the last day of the month (e.g. August)
Uncheck all "Status" boxes with the exception of "Quoted"
To see renewals only – uncheck "New Business" leaving only the "Renewal" box checked
Click the button labeled "Search"
All renewals with an effective date in August that have yet to be bound will be displayed
If you click the "Reset" button, it will reset all data entry points to their default settings:

Effective dates will be cleared; and
All "Status" boxes will be checked; and
Both "Policy Type" boxes will be checked.
5. Once you have the Search Results listed, you can click on the individual submissions to review.
If you wish to view a specific submission, but want to preserve the list of the search results and avoid having to re-run the renewal list, right click the submission number and click on "Open Link in new tab".
This will open another tab in your browser with the submission information you requested but preserve the original tab with the full search results listed. (See illustration below)